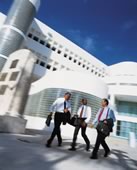 The Coughlan Group, Inc. (TCG) offers professional construction project management services with no affiliation to design or construction companies.
TCG will provide valuable management information tools by which the overall status of a project may be evaluated and with which to measure cost containment.
Our team of professionals, while expert in areas such as project management, construction management, cost control and facilities planning, are most adept at managing the process that draws all aspects of a relocation, consolidation and/or retrofit process together.
Services offered are:
TCG will manage the details of a project's planning, design and construction and in doing so enhance the productivity of the project team.
Projects range from new buildings, interior renovations and consolidations upwards of 2,000,000 RSF to renovations/restorations of special use facilities under 5,000 RSF.